Officers
Cassidy Holth
, President
Cassidy Holth is a senior from North Dakota majoring in Atmospheric Science and Environmental Studies with a minor in Mathematics. She has been interested in the weather since she was young and working on her dad's farm. Cassidy plans to attend graduate school to study environmental changes and land-atmosphere interactions with an emphasis on sustainable agriculture and rural communications. Her future career plans include working with the USDA as a Climate Director, or working in an Environmental Modeling Lab. This is Cassidy's fourth semester on SAAC, where she has previously served as Director of Student Outreach and led to the creation of the Aerospace Mentorship Program. Cassidy also serves as the Vice President of the UND American Meteorological Society and works to represent Atmospheric Science students within UND Aerospace. In her free time, Cassidy enjoys playing flute in the University Band, painting, being outside, traveling, and going for walks. She is looking forward to leading the council this semester and getting along with the Aviation students!
Elizabeth Mislan
, Vice President
Elizabeth Mislan is a current senior double majoring in Commercial Aviation and Unmanned Aircraft Systems, and is involved with the honors program. Elizabeth is originally from Glen Carbon, Illinois, where she received her private license before coming to North Dakota. In addition to SAAC, Elizabeth is a member of the Women's Air Race Classic team, a tour guide for the John D. Odegard School of Aerospace Science, and an instructor for the UAS department. Elizabeth hopes to pursue a career in Unmanned Systems in the future. This is Elizabeth's sixth term on the council and is looking forward to representing aerospace students!
Julianne Lore
, Secretary
Julianne Lore is a junior double majoring in Commercial Aviation and Unmanned Aircraft Systems. Julianne was born and raised in a small town just outside of Ann Arbor, Michigan. Her aspiration for a career in aviation started at a young age as her mother is a pilot and air traffic controller as well as a UND alum. Aside from being on SAAC, Julianne is a part of many other student organizations on campus. She is the Membership Fundraising Chair Officer for the UND Women in Aviation chapter, is an UpLift peer supporter, and is a part of the Student Aviation Management Association. Julianne has aspirations of becoming an airline pilot for a legacy carrier. Alongside her education and flying, she enjoys baking, swimming, traveling, and spending time with family and friends. Julianne is excited and honored to serve her second semester on the council!
Ryan Peene
, Treasurer
Ryan Peene is a senior from Renton, Washington majoring in Commercial Aviation and Aviation Safety and Operations. This is Ryan's fourth semester on SAAC and he's excited to help lead it as Treasurer. Outside of SAAC he competes on the UND aerobatic team, and is serving as Chairman of Uplift, UND Aerospace's new mental health peer support program. Ryan is also involved in the wider university by serving as a Student Ambassador and SOFA Liason. Outside of flying Ryan enjoys the outdoors, reading, and gaming. He hopes he can share his love for flying with as many people as possible, and is excited to help serve the student body through SAAC.
Mateo Garcia
, Director of Technology
Mateo Garcia is a junior from Downers Grove, Illinois. He is majoring in Commercial Aviation and Unmanned Aircraft Systems. His passion in aviation stemmed from flying kites and remote control planes with his father, and his friend taking him to EAA AirVenture at Oshkosh. Mateo hopes to one day fly for a major cargo carrier and eventually become a commercial test pilot. This is Mateo's fifth semester on SAAC, and he is looking forward to voicing concerns and new ideas brought to him by his peers. Other than SAAC, Mateo is the Vice President and Co-founder of Silver Wings (UND chapter), and an EAA member. In his free time, he enjoys playing pickleball, baseball, frisbee golf, hockey, and enjoys the outdoors. Feel free to say hi to Mateo or contact him with any questions or concerns.
Julia Raker
, Director of Programming
Julia Raker is a sophomore from Mill Creek, Washington majoring in Commercial Aviation and minoring in Spanish. Along with SAAC, Julia is involved in the 99s, a women's aviation organization, and serves as the online media director, and is the current vice president of education of Kappa Alpha Theta. Julia was first introduced to aviation through multiple tours of the Boeing factory in Everett, Washington. Although her parents were expecting her to have a passion in engineering, they were pleasantly surprised when Julia chose to come back to North Dakota, where her grandparents also went to college. As the first pilot in the family, she is excited to share her love of aviation with them. This is her first semester on SAAC and she is looking forward to serving the aerospace students and giving back to the community!
Kallen Wachi
, Director of Student Outreach
Kallen Wachi (or Kal) is a third-year student from Kaua'i, Hawai'i, currently majoring in Commercial Aviation, Aviation Safety and Operations, and Communication. In the future, he plans to return to Hawai'i to support transpacific and inter-island flight operations as a commercial pilot, hoping to connect Pacific Islander families and communities with the world. Kallen is also the Cultural Chair of the Japanese Cultural Association, a member of the Professional Asian Pilots Association UND Chapter, and an UpLift Peer Supporter. He hopes to bring his mana'o (knowledge), imua (diligence), and aloha (compassion) to serve the students of the Aerospace College and is honored to be part of this great institution.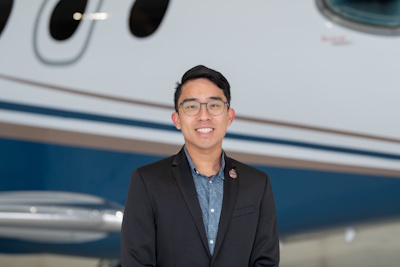 Arjun Jagada
, Director of Student Outreach
Arjun Jagada is a sophomore from the DFW metroplex. He is pursuing majors in Aviation Management and Aviation Safety and Operations. His passion for aviation stems from a boyish love of all things with wheels. In addition to flying the line, Arjun wants to hold a management or safety position for an airline. Aside from SAAC, he is the President of the Aviation Safety Association, and the Vice President of the Student Aviation Management Association. He is also an Aerospace Ambassador and the official photographer for UND Aerospace. Arjun is eager to help respond to student concerns in his second semester on the council.
Josh Salmi
, Director of Public Relations
Josh Salmi is currently a sophomore studying Aviation Management at the University of North Dakota. Growing up on Air Force Bases around the world, he attributes his interest in aviation from exposure to the world of military aviation at a very young age. Josh believes in staying active within the school and does so by serving as the treasurer of the UND Aerobatics Team, participating in seven student organizations and working as a Student Ambassador for the School of Aerospace Sciences. During his first semester as a member of the council, he hopes to serve as a bridge between students and faculty by helping to resolve concerns as well as inform students about unique career opportunities within their respective fields. His career goals include moving into the business sector of aviation upon graduation and selling executive jet and turboprop aircraft. In his free time, Josh enjoys flying, hanging out with friends, fishing, and working out. Josh is excited to serve the school and looks forward to the future of UND Aerospace.
Aidan Lally
, Director of Industry Relations
Aidan Lally is a senior Commercial Aviation major from Olympia, Washington. His interest in aviation was sparked during elementary school while traveling frequently with his family. Aidan is passionate about servant leadership in the aviation community through outreach, inspiration, and mentorship. At UND, in addition to his duties on SAAC, Aidan is active as a Student Ambassador with the Aerospace Dean's Office. Aidan's long-term aviation goals include flying for a U.S. Part 121 carrier and serving as an FAA Designated Pilot Examiner (DPE) for airman certification practical tests, all while teaching the next generation of pilots. Outside of flying, he enjoys traveling, hiking, backpacking, cycling, and just about anything outdoors!
Carson Calhoun
, Councilmember
Carson Calhoun is a sophomore from Garrison/White Shield, North Dakota, majoring in Commercial Aviation. In the future, Carson hopes to apply his education towards a part-time military career while also flying for a Part 121 or 135 operation. This will be Carson's first semester on SAAC, and he is excited to help improve an always-developing Aerospace College. Outside of SAAC, Carson is a Piper Aircraft Brand Ambassador and acts a Safety Committee Member on the ALPA Ace club, as well as being a peer supporter in UND's UpLift program and a member of the Student Aviation Management Association. Outside of Carson's passion for flying, he avidly exercises, reads, and spends time outdoors with friends and family. He is excited to share his passion for aerospace and serve the John D. Odegard School of Aerospace Science student body to the best of his ability!